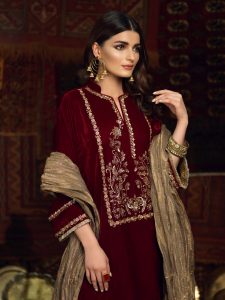 A tale back in time, Kahani roots back to a rich legacy that resonates royalty. Hand crafted using luxe and luscious velvet fabric that is soft, sumptuous and magnanimous, Zaaviay's new collection is a tribute to regality.
Perfect for your winter soirees, the deep rich hues of velvet accessorised by the finest craftsmanship, the collection is a tribute to the women of today. Featuring deep reds, purple, black and greens – the rich tones are a class apart. Depicting an enchanting story, each outfit narrates a story of its own.
The artisanal collection features long shirts, short shirts, swoon worthy kaftaans, regal angrakhas and bespoke cuts with something for everyone. Paired with Zaaviay's pure chiffon and pure zari gold crushed dupattas, the collection is a wardrobe staple. Heavily embellished using zardozi work, kora, dabka, sheesha and more – Kahani exudes grandeur.
Have a look at Zaaviay's exuberant winter collection and order your favorite ones right away!